Lördag den 10 juni 2023 kl 15.00
Barockhallen, Historiska Museet, Narvavägen 13-17
Möten: Tradition & samtid i den grekiska och svenska musikaliska modernismen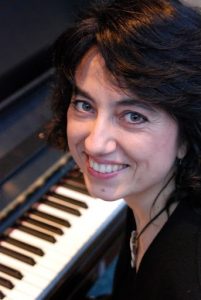 Lorenda Ramou, piano
I år firar vi att det är 75 år sedan Svenska Institutet i Athen instiftades genom att i sammarbete med föreningen Athenvännerna arrangera en konsert med den grekiska pianisten Lorenda Ramou på Historiska museet i Stockholm.
Pianomusik från just Grekland har alltid varit en väsentlig del i Lorenda Ramous konserter och inspelningar. Hon har gjort inspelningar här i Sverige på den välkända klassiska skivetiketten BIS och hennes inspelning av Skalkottas balettmusik utsågs internationellt till en av de mest rekommenderade skivorna.
Konserten på Historiska museet berikas med diktläsning av Jan Henrik Swahn och ett kort föredrag av Memi Melissaratou om "modernismen i krigets skugga". Bland annat får vi höra både svensk och grekisk samtida pianomusik med koppling till poeten Tomas Tranströmers musikaliska dikter.
---
Program:
"Modernism i krigets skugga" – en liten introduktion av Memi Melissaratou
Yiannis Constandinidis (1903, Smyrna-1984, Athen):
ur 22 sånger och danser från Dodekaneserna (1943-1948)
– Andante sostenuto (Karpathos)
– Andantino quasi parlando
– Allegretto semplice (Rhodos)
– Andante mesto (Rhodos)
– Allegretto con grazia (Leros)
– Andante lento (Rhodos)
– Allegro vivo ma non troppo (Rhodos)
Nikos Skalkottas (1904, Chalkis-1949, Athen):
Flickan och döden – Balettmusik för piano (1938)
– Moderato maestoso – attaca –
– Allegro – attaca –
– Andantino – Tempo di Valse (Lento) – Allegro moderato – Lento – attaca –
– Vivo; Allegro – attacca –
– Lentement – attaca
– Moderato assai; Lento – Allegro moderato – Lento
———————-
Tomas Tranströmer: Sorgegondol nr 2 – recitation av Jan Henrik Swahn
Stathis Gyftakis (b. 1967, Kalamata): Sorgegondolen (2011)
– efter dikten "Sorgegondolen" av Tomas Tranströmer, inspirerad av Franz Liszts "La Gondole lugubre"
Madeleine Isaksson (b.1956, Stockholm): Vågkammar (2015)
– skriven för, och dedikerad till, Tomas Tranströmer

Dimitris Dragatakis (1914, Platanoussa, Epirus-2001, Athen): Antiques (1972)
– dedikerad till Nelli Semitekolo

Giorgos Koumendakis (b.1959, Rethymnon): Three Mediterranean Herbs: Thyme, Mint, Sage
– ur pianosviten Mediterranean Desert (2000)
Calliope Tsoupaki (b. 1963, Pireus): Remains of the deep sea (1988)
---
Biljetter
Biljettpris: 180 kr (ungdom/student: 90 kr)
Mingel efter konserten ingår i priset.
Förköp enligt nedan rekommenderas!
Alternativ 1 – Bokning via e-post:
Mejla ditt namn och antal biljetter du önskar till info@gkis.se
Alternativ 2:
Betala till Athenvännernas plusgirokonto 60 23 60-0 eller bankgiro 550-2372 (Ange ditt namn i meddelandefältet.)
Biljetter kan i mån av plats köpas vid entrén innan konserten. Betalning med Swish eller kontant.
---
Om Lorenda Ramou
Lorenda Ramou's predilection for the contemporary repertoire is reflected by all her artistic choices. Her recitals often combine piano music with plastic arts, literature, and theatre. Following studies at the Paris Conservatoire and London's City University, she took part in courses run by the Académie du XXᵉ siècle (Paris) and Centre Acanthes (Avignon), with Pierre Boulez, David Robertson and Pierre-Laurent Aimard. She has studied under Tonis Georgiou, Claude Helffer, Marie-Françoise Bucquet, Denis Pascal and Steve Drury. In 2017 she gained her doctorate summa cum laude from the Paris Sorbonne University and the Paris Conservatoire, on Nikos Skalkottas's piano music. She has appeared at numerous European festivals, the USA and Chile, in venues such as the Amsterdam Concertgebouw, the Düsseldorf Tonhalle, the Cité de la Musique in Paris, the TSAI Performance Center in Boston, the Megaron in Athens and Thessaloniki, and Onassis Stegi. She has collaborated with the composers Mauricio Kagel, Maurice Ohana, George Crumb and Frederic Rzewski, visual artist and performer Leda Papakonstantinou, Fluxus artists Ben Vautier and Ben Patterson, and French writer Pascal Quignard. Greek piano music occupies a special place in her concerts, research and recordings, with more than 10 CDs (ECM, BIS, NAXOS…). The Union of Greek Theatre and Music Critics awarded her the best recording prize in 2021 for the album "From Berlin to Athens, Piano Music by Nikos Skalkottas" (BIS).
She is Associate Professor at the Department of Music Studies, University of Ioannina, collaborates as project manager and concert curator with Onassis Stegi ("Music connects the Stegi and Panteion University") and teaches the yearly seminar 'The Piano in the 20th and 21st Centuries' at the Athens Conservatoire. Her work has received support from the Academy of Athens, the French Ministry of Culture, the British Council, Fulbright, Gaudeamus, Meyer and Leventis Foundations, Greek State Scholarships Foundation and from the Center for Hellenic Studies at Harvard University.
---
Konserten arrangeras av Svenska Atheninstitutets Vänner i samarbete med Grekisk Konstmusik i Sverige.